QB Inventory, or qb-inventory, offers an advanced slot-based inventory management system designed specifically for FiveM QBCore servers. It's engineered to be intuitive, with a user-friendly interface that operates smoothly with a single F1/TAB key press. Our script delivers an unparalleled suite of features, ensuring a robust and satisfying user experience for server management and gameplay enhancement.
Key Features:
Slot-Based System: Efficiently manage your server's inventory with a system that categorizes items by the space they occupy.
Comprehensive Item Support: qb-Inventory supports an expansive range of items, including weapons, attire, nourishment, contraband, and more. You can also introduce your own bespoke items.
User-Friendly Interface: Open the inventory with a simple press of the F1/TAB key and manage items through drag-and-drop functionality.
Crafting & Attachments: Enhance gameplay with crafting capabilities for items and weapon attachments.
Stash Options: Secure storage solutions with personal and shared stash features for players to safeguard their valuables.
Vehicle Integration: Extend inventory to vehicles with trunk and glovebox storage, complete with a unique weapon serial number system.
Dynamic Shops & Item Drops: Create immersive shopping experiences and item discovery opportunities with our versatile script.
NoPixel Inspired: Tailored to match the functionality of popular servers like NoPixel, providing familiar quality and ease of use.
qb-inventory Benefits: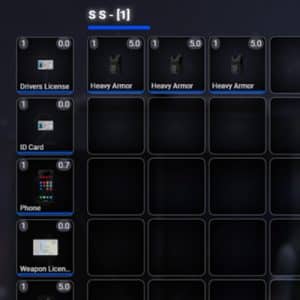 Improved Inventory Management: qb-Inventory revolutionizes the way players interact with inventory, providing a streamlined and efficient experience.
Enhanced Gameplay: Crafting and weapon attachment capabilities, along with dynamic shops and item drops, add new dimensions of excitement and immersion to gameplay.
Seamless Integration: qb-Inventory is fully compatible with the QBCore framework, ensuring seamless integration with your server.
Extensive Customization:

 QB Inventory is highly customizable,

 allowing you to tailor it to your specific server needs and preferences.
Whether you're looking for a simple yet effective inventory management solution or a comprehensive system to elevate your server's gameplay, qb-Inventory is the perfect choice for you. With its adaptability, extensive features, and NoPixel-inspired design, QB Inventory is the ultimate inventory management script for FiveM QBCore servers.