Step up your FiveM gaming journey with our top-tier NoPixel 3.5 Full Server, perfect for all FiveM enthusiasts! Get your hands on our superior FiveM server for sale that offers an unbeatable gaming experience, all tailored to your needs. With NoPixel server maps and mods at your disposal, you'll create an unparalleled role-playing environment in no time.
We proudly present our NoPixel 3.5 Full Server Download, architectured on the most recent QBCore Framework. This server is ready to support more than 500 players at once, compatible with both OneSync Infinity and Legacy. Immerse yourself into a world of premium maps, custom scripts, vehicles, and EUPs that come with our FiveM NoPixel Server Files.
What sets our NoPixel 3.5 Server apart?
Our NoPixel 3.5 Server Files are not just any custom core-based servers. They're created solely with the newest version of QBCore compatible scripts. You'll be provided with a base server identical to our Test server, accessible upon contacting us. Rest assured, we've put our servers through rigorous performance and features testing. They are primed and ready for providing superior, optimized FiveM experiences.
Experience Our Server Before You Buy:
We understand the importance of trying before buying. That's why we offer a 24/7 live test server for potential customers to explore and experience our NoPixel 3.5 Full Server firsthand. Get a glimpse of the immersive FiveM gameplay, dynamic features, and seamless performance that our servers offer. Please feel free to contact us to gain access to the test server, and discover why our FiveM server is the right choice for your gaming needs.
Key Features of our QBCore Server:
Deeply influenced by NoPixel 3.5 with the most advanced QBCore Framework
Packed with over 20 Heists & Robberies and 6 different types of drugs
More than 60 Jobs & Activities ranging from Police, EMS, Mechanic, Car Dealer, and more
Enhanced systems for Gangs, Banking, Multiple Characters & Spawning
Upgraded UI, Job grades/ranks with Boss menus
Discord Integration, Rich presence (with Server Logs), and Anti-cheat
New EmoteMenu featuring Custom Emotes & 3000+ Dances similar to NoPixel
For an immersive experience, we offer:
Large Clothing Pack featuring 15,000+ assets
The latest CAYO PERICO Island
Premium housing shells and Custom Job Vehicles
200+ Custom Vehicles, including premium models
And much more for the serious role-player!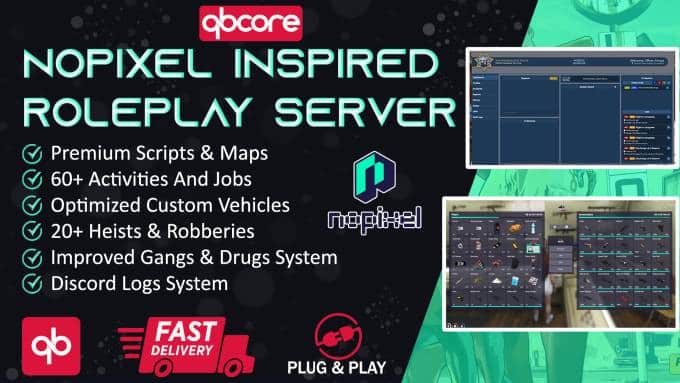 For a comprehensive list of features, head over to our dedicated page: NoPixel Inspired QBCore Roleplay Server.
Don't wait up! Level up your FiveM gaming journey with our NoPixel 3.5 Full Server Download today. Step into the ultimate role-playing community on FiveM. We assure you, once you experience our server, you'll know exactly how to buy your own FiveM server!"
Check out our full features list on this page: Nopixel Inspired QBCore Roleplay Server.