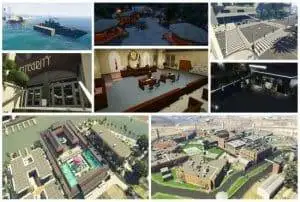 Welcome to our specialized category focusing on FiveM MLO – a treasure trove for all things related to multiplayer maps for the popular game, FiveM. Our FiveM MLO category is meticulously curated to provide you with the most immersive, interesting, and unique mapping content for the Grand Theft Auto V's multiplayer modification, FiveM.
The "FiveM MLO" category serves as a platform to explore innovative and immersive mapping designs for FiveM, thereby providing an enriched gameplay experience. The keyword "mlo fivem" stands for Map Location Objects in FiveM, referring to the custom maps that players can utilize to navigate, explore and create missions in the game.
In this category, you'll find a diverse array of FiveM maps that include everything from small hideouts to large-scale locations, all optimized to reduce load times and maximize the fun in your multiplayer sessions. We understand that in the world of FiveM, the map you play on can make or break your experience, which is why we focus on providing a variety of high-quality and unique FiveM maps.
Whether you are a seasoned gamer looking for fresh maps to explore, or a server owner wanting to provide the best environment for your players, our 'FiveM Mlo' category has you covered. Dive in and start exploring now! You'll be amazed by the quality and variety of the maps we offer. Happy Gaming!
Showing 1–12 of 105 results