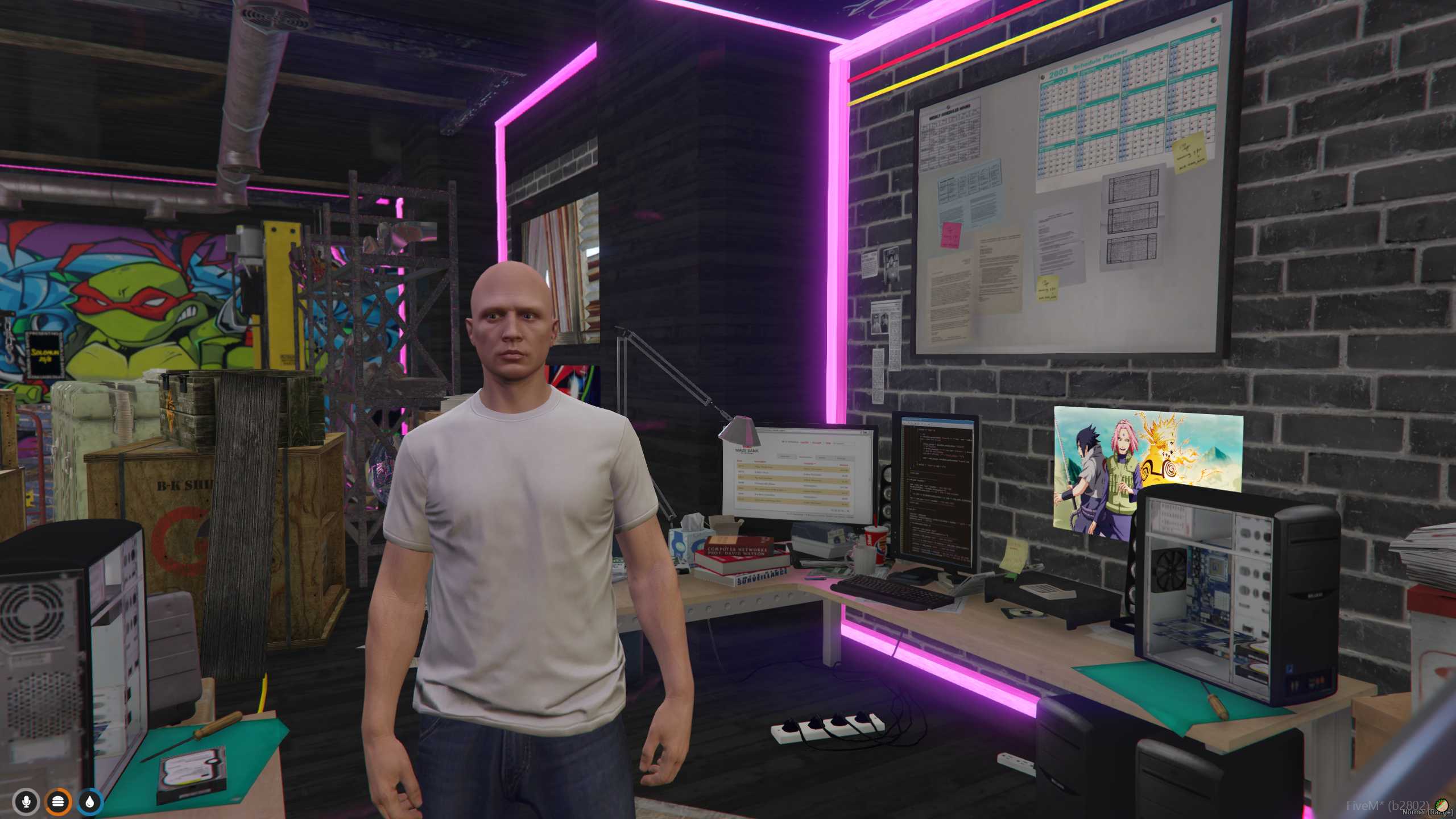 Meta Description (under 160 characters): Immerse yourself in the futuristic world of Cyber Club MLO, a custom FiveM map featuring a cyberpunk-style room filled with computers and illicit materials. Experience the thrill of this modern mod in both FiveM and Singleplayer modes.
Short Description : Step into a Cyber Club MLO, a cutting-edge cyberpunk map for FiveM. Delve into the sleek, technology-filled room and indulge in the futuristic ambiance of this mod. Perfect for both FiveM and Singleplayer modes.
Introduction : Welcome to Cyber Club MLO, a meticulously crafted map that brings the futuristic essence of cyberpunk to FiveM. Prepare to be captivated by the modern aesthetics and immersive atmosphere of this unique mod.
Key Features : Cyber Club MLO showcases an exceptional array of features, including custom props such as the PS5 and AWP CSGO, as well as a single room meticulously designed with a cyberpunk theme. Dive into a world where technology and illicit materials intertwine.
Bug-Free Experience : Rest assured, Cyber Club MLO has been thoroughly tested and is free of any bugs. However, if you encounter any issues, please report them via DM on Discord, and our team will promptly address and resolve them.
Programs Used : The creation of Cyber Club MLO involved the utilization of cutting-edge software and tools, including 3DS MAX 2018, Gims EVO, Adobe Photoshop, Codewalker, FiveM, and OpenIV. These industry-standard programs ensured the creation of a top-notch map for your enjoyment.
Installation Instructions : Follow these simple steps to install Cyber Club MLO on your FiveM server or Singleplayer mode:
FiveM:
Navigate to your resources folder.
Copy and paste the "secret" folder into the resource folder.
Open your server.cfg file and add "ensure secret" or "start secret" to load the map.
Start your server and immerse yourself in the Cyber Club MLO.
Singleplayer (SP):
Copy the Cyber Club MLO folder to "mods/update/x64/dlcpacks".
Open the "dlclist.xml" file located at "mods/update.rpf/common/data".
Add the following line at the bottom of the file: <Item>dlcpacks:/secret/</Item>.
Save the file and get ready to explore the Cyber Club MLO in Singleplayer mode.
Conclusion : Experience the sleek and immersive world of Cyber Club MLO, a cyberpunk-style map designed specifically for FiveM. Get lost in the captivating atmosphere and indulge in the futuristic vibe of this mod. Whether you're a fan of role-playing or seeking a visually stunning environment, Cyber Club MLO is the perfect choice.